So earlier this morning I noticed that Dropbox was using 100% CPU on my Mac.  Checking the Menu Bar icon I noticed that it was stuck syncing on a single folder.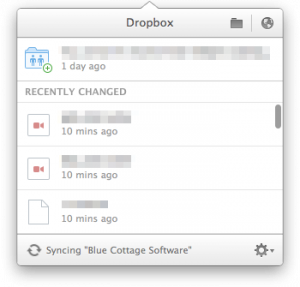 Researching a bit more I found the following things, NONE of  which worked …
Un-linking and re-linking my Dropbox account
Running Dropbox's official check files with invalid file names webapp (which only god knows why they don't do this automatically)
Deleting all my old shared folders
In the end I just traversed the subfolders in the "Blue Cottage Software" folder till I found the one it was stuck syncing on, and renamed it.
A quick restart of Dropbox and no more 100% CPU.
The only down side is my MacBook doesn't run all day with the fans on full blast, which means I now have to find another way to keep myself warm during the winter months.